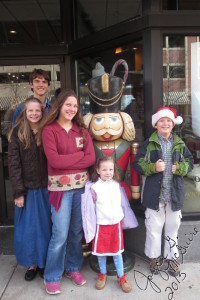 Today we went to see the Nutcracker at the Morris Performing Arts Center.  We were able to take my nephew David, and a friend, Evie, with us this year. It was a good show even though Adrian said "it was just like last year!"
After the show, we walked down the street and enjoyed a few decorations.
Then we went to the South Bend Chocolate Company Factory and had lunch.  We tried caramelized molasses candy called Seafoam.  Of course, we did not leave before we had picked out some candy to take home.
It was a wonderful day of school!